Dec 01 2022
World AIDS Day Rededication Memorial at Lindenwood Cemetery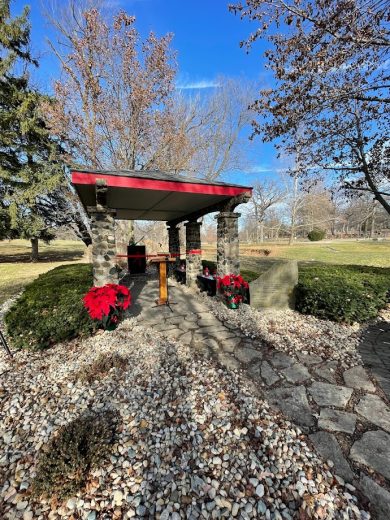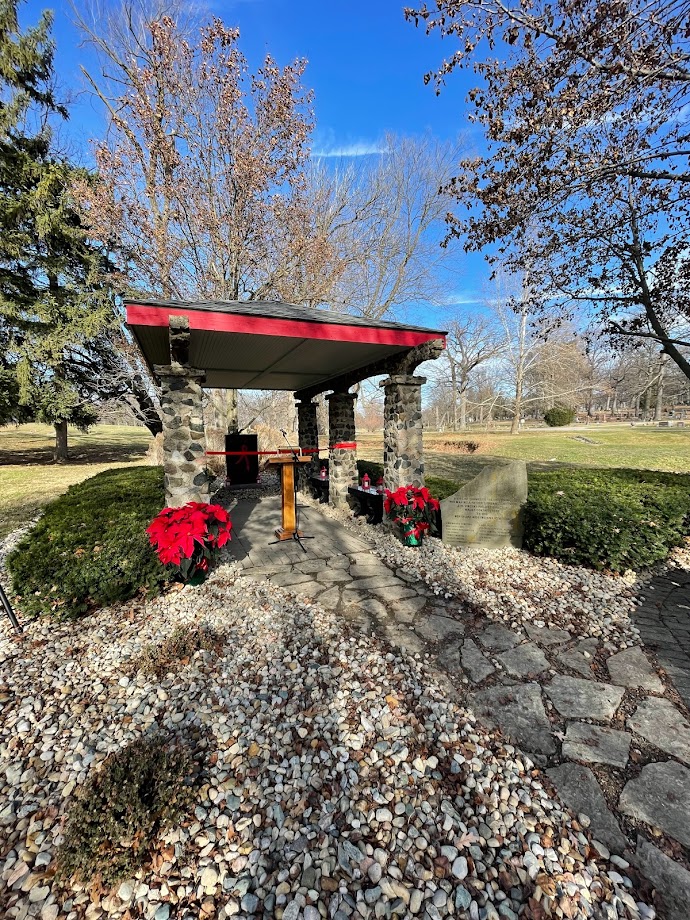 Lindenwood Cemetery representatives, the staff of Positive Resource Connection, local media outlets, and community members gathered at Lindenwood's AIDS Memorial on December 1st, 2022 (a date internationally recognized annually as World AIDS Day) for a special rededication ceremony. Originally constructed in 2004, the AIDS Memorial stands to honor those lost to the disease. In 2022, Lindenwood Cemetery began the process of revitalizing the space with new landscaping, fresh paint, and future plans of power washing the memorialized name bricks.
The 2022 rededication event kicked off with a welcome from Fort Wayne's Mayor Tom Henry. Positive Resource Connection's executive director, Jeff Markley gave a powerful speech (transcribed below) about the history of HIV/AIDS and its associated stigma, and how far we've come today. Branden Blaettner, also known as After Dark Nightclub's Della Licious, elicited some laughs and fellowship with a moving performance of Bette Midler's song Friends. As a longtime advocate and volunteer for those living with HIV/AIDS, Blaettner has helped raise $1 million over more than 30 years to help those living with HIV and AIDS in northeast Indiana. Concluding the rededication ceremony was Lindenwood's general manager, Amber Gonzalez, with a ribbon cutting of the renovated memorial.
Mayor Tom Henry gives welcome address

Attendees watch Branden Blaettner perform

Branden Blaettner performs Bette Midler's Friends

Lindenwood Cemetery's general manger, Amber Gonzalez cuts the AIDS Memorial ribbon

Staff of the Positive Resource Connection gather at the AIDS Memorial entrance

Branden Blaettner (left) and Jeff Markley
Lindenwood AIDS Memorial Rededication Speech
By Jeff Markley, Executive Director of the Positive Resource Connection
December 1, 2022
Thank you to Mayor Henry, Della Lish McGee, Amber Gonzalez and all of you for being here today to re-dedicate the Lindenwood AIDS Memorial Garden on this the 35th Annual World AIDS Day. A day of solidarity for people around the world who have been affected by HIV in one way or another. From the very wealthy and prominent to the middle-class families to the poor and homeless. HIV is an equal opportunity infection and cares not about social standing, financial status, mental state of being, gender identification, age, sexual orientation, race, or anything else that might differentiate us from one another. It is blind to who we are.
What if access to care, treatment, medication, and prevention services and tools were just as blind? How much closer to an HIV and AIDS free generation we would be if access to care and prevention opportunities were as equal as acquiring the disease? What would our world look like if medical care wasn't influenced by our social standing, financial status, gender identification, sexual orientation, race, or any of those other things that differentiate us from one another? We've made huge strides forward within the treatment and prevention sciences. And there is no doubt we've made great strides in access to care. But it is still not equal for all.
And it certainly wasn't equal for those who we honor, remember, and celebrate today here as we rededicate this beautifully enhanced AIDS Memorial Garden. Many, if not all, of those memorialized in this garden lived a very different HIV-positive life than we do today. It is likely they were informed of their HIV infection after becoming ill and not responding to typically routine and effective treatment. It's likely the test to detect their HIV status took several weeks and then several more weeks for confirmation. It is likely their daily routine included taking multiple pills at strictly scheduled times multiple times a day. It is likely their HIV medications created complicated, painful, and debilitating side affects that required additional medication just to mange the affects of their HIV medications. It's likely they were reluctant if not down right terrified of sharing their status to others or of others somehow figuring out that they had AIDS. The social stigma was real and often reared its head in action with the loss of a job, being disowned by family, denied medical care at your lifelong family doctor's office, and being verbally and/or physically assaulted by random strangers.
I believe those memorialized here today would be amazed, as are we who lived through and experienced those early years, as many of you here can remember, of what living with HIV looks like in 2022. Today it is likely a newly diagnosed HIV-positive person living in northeast Indiana is taking one pill a day, either sometime in the morning or sometime in the evening – a strict time regimen is not required. It's likely they are not experiencing any side effects that are debilitating or that require an additional medication to manage their HIV medication. It's likely they were tested and learned about their status without any accompanying illness. And it's likely they received those test results within minutes and not weeks. It's also likely they were very quickly offered access to compassionate and caring medical care and that no one will ever know they have HIV by the way they look as they will remain healthy and vibrant and productive as long as they are taking that one pill a day. It's likely the stigma has softened and fear of losing a job, being disowned, and being ostracized has lessened – not gone – but not as threatening as it once was.
This is all likely for some, but it is not equally likely for all. We still have much work to do to equalize access to prevention and treatment. The person must come first – regardless of race, gender identification, financial stability, social standing, and on and on. There is more to be done within the black and Latinx gay and bisexual communities where CDC estimates that one out of every two gay/bisexual black men– or 50% — will be HIV positive by the year 2030 if nothing changes. And rates are increasing within gay and bisexual Latinx men as well. It's our responsibility to make ourselves more accessible, more approachable, and more trustworthy so these individuals can feel safe and confident in walking through our doors knowing they will be embraced and taken care of without judgement and stigma.
I'm proud of our staff and the work they do to equalize the playing field as much as possible. We're not all the way there but we're constantly working to get there and get better at it every day. I can tell you of those who choose to enroll in our case management program, 94% lower the level of HIV in their bodies to an undetectable level within 6 months. We have almost 200 individuals who have accessed our PrEP services and eliminated their risk of HIV infection. In 2022 alone over 185 uninsured PRC clients now have health insurance and are better able to afford their medical care. We have intentionally partnered with Black and Latinx community organizations and leaders to reduce the HIV stigma and, quite frankly, reduce the gay and bisexual stigma that continues to haunt our society in general but is even more pronounced in these communities.
Today is World AIDS Day. We acknowledge AIDS in the world and we recognize northeast Indiana's important job as one of millions of places in the world that are succeeding in moving us all to an HIV and AIDS free generation.
And as we contemplate the world, we take this time to engage locally. We honor those for whom this AIDS Memorial Garden was originally dedicated, and we remember their struggles and their joys and the ways they continue to enrich our lives.