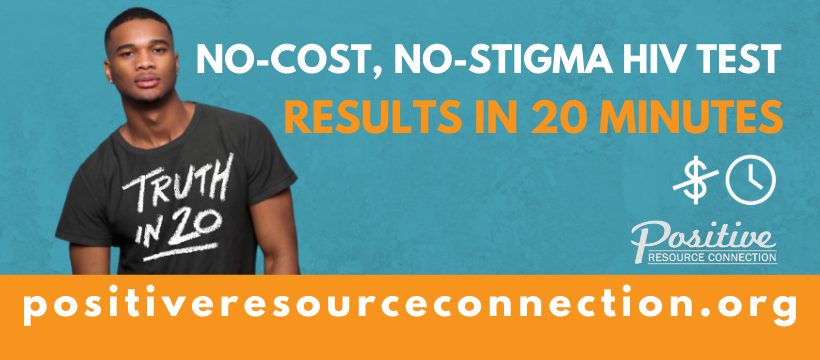 We're here to help.
We're Northeast Indiana Positive Resource Connection. We provide HIV education, prevention, testing and case management for persons living with HIV/AIDS, their families and loved ones, persons at risk for HIV, and the general public. The Positive Resource Connection proudly serves the following counties in northeast Indiana: Adams, Allen, DeKalb, Huntington, Kosciusko, LaGrange, Noble, Steuben, Wabash, Wells, and Whitley.

Get Tested
Knowing your HIV status is crucial. PRC offers free and confidential HIV testing using an oral HIV test with results in just 20 minutes.

Our Services
We believe a healthy community is an educated and safe community. Our services include outreach, care coordination, free information and products, and more.

Get Involved
Want to be a Positive Resource Connector? We have plenty of opportunities for you to get involved!
Positive Resource Connection
"When I was first diagnosed, I was scared but ready to fight against HIV/AIDS. The Positive Resource Connection came to my rescue, without judgment, to help me get my health and my life back. The case workers have been an inspiration. I will forever feel a fondness and warmth for all they have done and continue to do. Thank you."
"If it wasn't for the Positive Resource Connection, I wouldn't have been able to get my HIV medicine. I wouldn't have been able to get and maintain health insurance, or to comprehend the information given to me at my doctor's appointments."
"I was nervous about getting an HIV test and kept putting it off. Positive Resource Connection was able to test me without using my blood – I was in and out in 20 minutes. My counselor made me feel very comfortable. If I would have known I would have gotten it done a lot sooner."
"When I first tested positive, I was devastated, ashamed and quite scared. I had no idea what to do next. Positive Resource Connection's staff was amazing. Without judgment, they educated me about HIV, made my first doctor's appointment for me, and even went with me. They were also a source of great moral support and helped me shed the shame I felt for getting infected. I now take one pill a day, have an undetectable viral load, work full-time, and look forward to living well into old age. Thank you for your compassion and knowledge. You are amazing."
"You may not be able to change the present, but it doesn't mean your future is bleak. Keep your head up and smile. The Positive Resource Connection helps me live with my head up and smiling every day. Thank you for all you do!"
Testimonial # 6
The

Positive Resource Connection

is offering free testing for Hepatitis C and HIV. Persons who should get tested for Hepatitis C and HIV include anyone who has shared needles for injection drug use, tattooing, or body piercing or has shared other drug equipment such as pipes, tooters, rinse water, etc. Baby boomers are also identified as an at risk group.
These tests take only 20 minutes and are painless. I just took advantage of this free service and I highly recommend it. Call the PRC to schedule a time to be tested. 744-1144
Knowing your status is key to your good health!
David Kirk,
Board President,

Positive Resource Connection