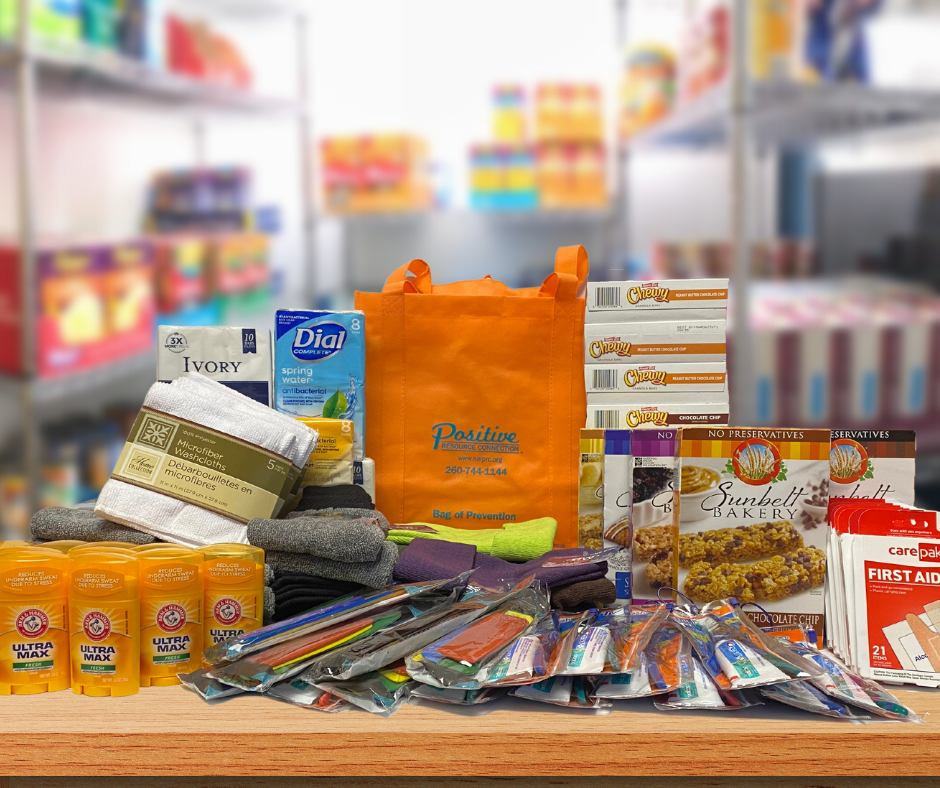 Bag of Prevention
An Ounce of Prevention is Worth a Pound of Cure
Become a Northeast Indiana Positive Resource Connection Prevention Ambassador and help us end new cases of HIV/AIDS, Hepatitis and STIs. Bags of Prevention help support PRC clients who use our Gregory L. Manifold food pantry, and high-risk individuals within our Street Outreach program. With just one bag, you can make a huge difference in protecting your community.
How It Works
You can become a Prevention Ambassador in just three steps!
1. Start with an empty Bag of Prevention
Stop by our office to collect an empty bag to fill and return later.
Or give us a call and we'll bring a stash of bags to your organization to share with your team.
No bag, no problem! We accept Bag of Prevention donations with or without one of our reusable orange totes.
2. Fill 'er up!
Gather your donations of food, clothing, toiletries and utensils inside your Bag of Prevention – check out our list of accepted items.
Mix and match or donate a bunch of one thing.
Fill the bag to the top, fill it halfway, or donate one item. Everything helps! If one orange tote isn't enough, use extra paper or plastic bags or boxes to accommodate overflow.
Please make sure food items are not expired and unopened in original packaging.
Second-hand clothing and utensils are more than welcome. We ask that they are clean and in good condition.
3. Bring your filled Bag of Prevention back to us
Positive Resource Connection
525 Oxford Street
Fort Wayne, IN 46806
Monday, Tuesday, Thursday, 9am-4pm
Wednesday, 9am-6pm
Friday, 9am-12pm
Accepted Bag of Prevention Items
Please make sure all food items are non-perishable, not expired and unopened in their original packaging. Clothing and utensils may be secondhand, we ask that they are clean and in good condition.
Individually wrapped snacks

Granola bars, trail mix, crackers, breakfast bars, etc.

Nonperishable food items

Canned fruit, canned vegetables, canned soup, etc.

High-protein food

Peanut butter, canned chicken, tuna or beef, high-protein energy bars, meat sticks, prepackaged nuts, individual protein shakes, etc.

Toiletries

Toothpaste, toothbrushes, bar soap, shampoo, hand sanitizer, combs, brushes, wash cloths, etc.

Clothing

Socks, long-sleeve and short-sleeve t-shirts, etc.

Warm layers

Winter gloves, winter hats, scarves, blankets, etc.

Utensils

Handheld can openers, reusable spoons and forks, etc.
Who Your Bag of Prevention Supports
PRC Clients

Bags of Prevention help support clients enrolled in our PrEP Program, Hepatitis C Case Management, and our Non-Medical Case Management clients who use the Gregory L. Manifold Pantry.

Individual Community Members

Donated food and clothing are distributed with helpful resources to high-risk community individuals through our Street Outreach program to prevent new cases of HIV/AIDS, Hepatitis C and STIs.