October is fast approaching and while we hate to see the summer end, we couldn't be more excited for the fall.  Saturday, October 5th will mark the 31st Annual Dinner Dance, still our largest fundraising event of the year. Last year we hosted Emmy-winner Leslie Jordan of Will & Grace fame.  For our 31st year, we're proud to announce another sitcom star and Fort Wayne native as our celebrity guest: Mr. Dan Butler.   
While his filmography is no short list, Butler may be best known for his role as Bob "Bulldog" Briscoe in the hit television series Frasier.  Butler left his Fort Wayne home many years ago to find success in Hollywood and beyond, but he still has a soft spot in his heart for the Summit City.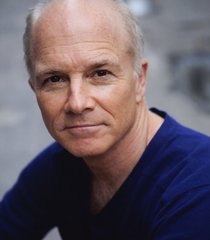 While Butler's parents were still living in Fort Wayne, he and his husband would come back to the city every other year to guest-direct plays like Our Town and teach acting workshops for film and television. In the early days of his visits home, he'd often feel stir crazy after only a few days.  Over time, however, he's become impressed with the positive direction the city seems to be heading.  
Once his parents passed, he wondered if he'd have reason to return to Fort Wayne, but the city already seemed to have captured his heart as he and his husband Richard make a trip back once a year.  "I have a great deal of affection for the whole area," Butler said in a telephone interview. "I love coming back." 
Dan Butler is honored and excited to join this year's Dinner Dance in support of the Positive Resource Connection. During the height of the AIDS crisis, Butler was no stranger to HIV/AIDS and the tragedy surrounding it.  Butler took an active role while living in Los Angeles, delivering nutritious meals to those living with HIV, and even joining a program that connected volunteers with people dying of AIDS in order to share the death experience.  
"They were incredible times," he said. Even while being HIV-negative, Butler still felt the weight of survivor's guilt, and continues to carry a bit of it to this day.  Since HIV/AIDS are no longer in the headlines as often, it's easy to forget that it's still affecting us and our world. He fully supports the Positive Resource Connection and its mission towards an AIDS-free future.  "I'm glad there are organizations like this that remind us of our humanity, and that we need to take care of one another."
The 31st annual Dinner Dance will be held at the Grand Wayne Center of Fort Wayne on October 5th, 2019.  Meet Dan Butler up close and personal at the VIP reception beginning at 5 p.m. Main event doors open at 6 p.m. with a plated dinner, live and silent auctions, more from Dan Butler, and dancing.  Tickets start at just $20. Follow The Dinner Dance on Facebook to stay up to date on all the details!
Contributing Writer: Bonnie Blackburn-Penhollow